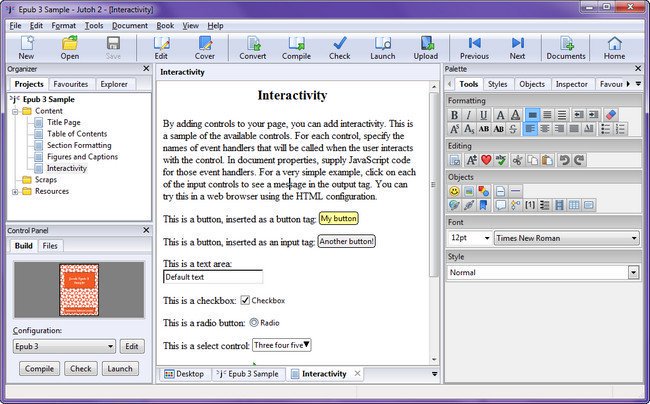 Anthemion Jutoh 2.87.1 Multilingual Portable | File Size: 67.98 MB
Jutoh is a complex and reliable software solution whose main purpose is to help you create ebooks from a wide range of sources, being able to export them to EPUB, CHM, HTML, HTB and others. Straight-forward and practical looks
The application features a multi-panel interface, with several sections open at the same time, allowing you to adjust whichever part of your project you want with just a few mouse moves.
As such, you can work with the 'Organizer' and manage the structure of your electronic book, while the 'Control Panel' enables you to build the files with a single button press.
The 'Layout' panel helps you customize the appearance of the various pages and objects, whereas the working window displays the item you are currently working on.
Effortlessly create multi-platform ebooks in several different formats
To generate a blank ebook, Jutoh provides you with a wizard that will guide you every step of the way, so as to simplify your task. You first need to input a title, author, publisher and various other details, such as subject, publisher site, language, issue year or description.
Next, you can set the 'Project Folder', optionally being able to load a template to use as basis. You can also check the preferred 'Initial Formats', for instance Epub, MobiPocket, OpenDocument, Text, HTML, CHM and others.
Moreover, you can opt between a 'Normal Reflowable Book' and a 'Fixed Book Layout', the latter enabling you to set the page size and optionally load your own background image, then press 'Finish'.
The ebook will then be up for customization, allowing you to add text and images, create new pages and adjust them to suit your needs. When the configuration is complete, you can click on 'Compile' to export the file to the chosen format.
A handy ebook designer
As a conclusion, Jutoh is an efficient and very easy to handle application which can successfully assist you in building fully customized electronic books, that you can publish to any of the popular formats in just a few clicks.
Features:
Formatting:
Jutoh supports paragraph and text formatting. You can add custom paragraph styles to the built-in styles, and you can specify custom CSS for each style (or the whole style sheet) if required.

Multiple format export:
Jutoh exports to Epub, Mobipocket (if the kindlegen application is available), ODT, single-page HTML, and text.
HTML, text, ODT, and Epub import:
Jutoh imports from a range of formats. Using an application such as OpenOffice.org or the OpenDocument plugin for Microsoft Word, your existing word processor files can be saved in ODT (Open Document Format) for import into Jutoh. Or you can import from plain text or HTML, or an existing Epub ebook. (Note that CSS style definitions are not preserved when importing from HTML or Epub.)
'Configurations' allow extensive customisation:
Jutoh's configuration facility allows you to define a version of your book that has its own cover, style sheet, and even variations in content (such as a title page with text specific to a web site or publisher).
Cover designer:
Jutoh's cover designer lets you quickly create a simple cover design for your book, and a number of templates are provided. You can change the layout of a design and add more text and pictures; keywords in the design are updated automatically from the book's metadata.
Table of Contents Wizard:
By default, Jutoh can create a simple table of contents from chapter titles, without intervention.
If you need finer control of your table of contents, Jutoh has a wizard to make it easy for you to build the contents page based on the styles of the headings in your book. You have control over the entries in the book, and can add new links by hand if required.
Auto-replace:
Jutoh lets you customise automatic replacements (for example, replacing (c) with ©) and also does automatic quotation replacement.
Built-in Epub error checker and debug window:
Jutoh includes Adobe's EpubCheck, a button click away. If there are errors in the generated file, errors will be shown in context using Jutoh's source viewer.
The source viewer supports search within a document and you can go to a specific line.
You can also use the viewer to examine other Epub files, not just ones generated by Jutoh.
Configurable ebook launching:
You need to check that your book looks good on a variety of ebook platforms. Jutoh lets you add viewer applications so you can easily choose the desired ebook reader for viewing your generated book.
Spelling checker:
Check for typos with the built-in spellchecker, available in a number of languages.
Keyboard shortcuts for high-speed editing:
Use keyboard shortcuts to make editing your projects fast and natural.
Online Manual:
The comprehensive online manual documents all aspects of Jutoh.
Help window:
The help window allows you to browse Jutoh manuals from within Jutoh, side-by-side with your work. You can maximize it to take up the whole window while reading a topic, or unpin it to show it in a window of its own.
Scraps facility:
You can keep your research and random ideas: notes, pictures, and document and web links. On Windows, use auto-paste to quickly paste scraps by copying text, graphics or web links twice in succession in any other application.
Desktop:
Access to tools and applications is available via the Jutoh Desktop. You can customize the desktop look, add your favourite applications and documents, and create text and picture notes. You can even create a rolling slideshow of pictures to inspire you.
USB memory key support:
Jutoh has superb support for external drives, such as USB memory keys. You can use an external drive for your documents and for all your Jutoh preferences, and you can even install Jutoh entirely onto the drive for complete portability. You can then switch between different machines and operating systems, taking all your documents and settings with you.
Backup Facility:
The File Manager tool gives you an easy way to back up your precious files, without resorting to an additional tool. Specify File Sets that include all files of a given type, and create a backup with just a few clicks. You can also easily restore files from a backup archive.
Search:
A global search tool helps you search all your open documents, allowing you to see all the search results in a list and step through them.
Slideshow:
Shows your image and collage scraps in succession, in a window or full-screen.
Customization:
Specify notebook and journal font styles and sizes; and brighten up window backgrounds with the supplied textures, or your own.
Whats New:
When building a table of contents, Jutoh now takes into account whether sections were conditionally compiled out.
Fixed an erroneous CSS warning when compiling for Mobipocket when there is drop caps.
Added "CSS syntax warning" advanced setting to allow the custom CSS name checking to be disabled.
Added a workaround for list indentation being too great in Kindle enhanced typesetting, via the configuration option Use default list indentation. This option ignores list style definition indentation and uses device defaults, for consistency across Kindle viewers. It will be enabled for old projects opened in Jutoh 2.87, and for new Mobipocket configurations. There is also warning if the option is not enabled and the project contains lists.
If whole rows in a table are made invisible by virtue of spans (merged cells) being identical in a row, empty rows are no longer written since they cause syntax errors, manifesting in missing content for some viewers.
The table properties dialog now shows information about the table in the About field, including the number of rows and columns, and which cells will be changed. Jutoh will report if there are hidden rows or columns, caused by spans across a whole row or column. If you select a single cell, Jutoh will report the row and column spans for this cell, if any.
In the Inspector, Tables mode, the row and column display ordering has been swapped for consistency with other parts of the UI.
Fixed a problem in ODT generation whereby the top of images were cut off; this was caused by paragraph spacing, so Jutoh no longer writes paragraph properties such as spacing when writing default properties based on the "Standard" or "Normal" style.
Fixed a problem in ODT generation whereby HTML special characters were not escaped in page styles.
In the page style editor dialog, added the warning "If both header and footer are enabled, 'Same content on first page' must be the same value in the Header and Footer tabs" since the behaviour in LibreOffice won't respect different values for this option (i.e. you may see missing headers or footers on the first page of a chapter).
Added Series and Series Index metadata fields in Project Properties, which write Calibre-specific metadata to Epub files.
Added a new configuration option RTL page direction, so that you can independently set the page-progression-direction of an Epub 3 book without also making all paragraphs RTL. The page-progression-direction attribute is now correctly set for the spine instead of the spine items.

https://rapidgator.net/file/2b9eb4017e4e1c682634dee7d1165df2/Jutoh.2.87.1.rar.html

https://uploadgig.com/file/download/9408679A1d6fD417/Jutoh.2.87.1.rar
(12)